After the 21st century easing of state distillery laws, Texas became the wild west of the bourbon business.
At least 18 craft distilleries have opened since Garrison Brothers in Hye got the first Texas bourbon license in 2006, and the newest is producing a smooth sip in Grapevine.
Tahwahkaro is "a Texas grain-to-glass distillery, and we are adamant that we stay that way," says founder Justin Jackson. "We make every drop."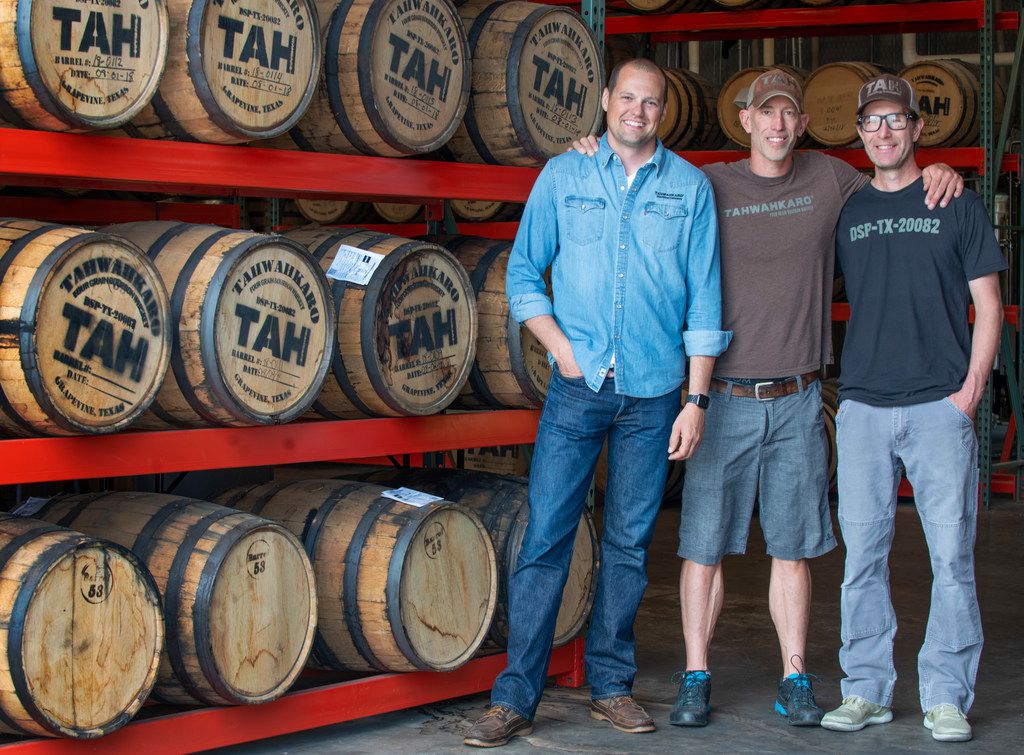 Named for the Caddo word for Grapevine Creek, Tahwahkaro debuted in March. Within a month, the four-grain bourbon won a silver medal at the prestigious San Francisco World Spirits Competition.
It has since clinched bronze awards in Denver and New York, and shelf space in nearly 170 stores statewide, including Total Wine & Spirits.
Tahwahkaro sources raw corn, wheat, rye and barley in Texas, and all the milling, water purification, mashing, distilling, barrel aging and bottling happens in a nondescript warehouse near Dallas-Fort International Worth Airport.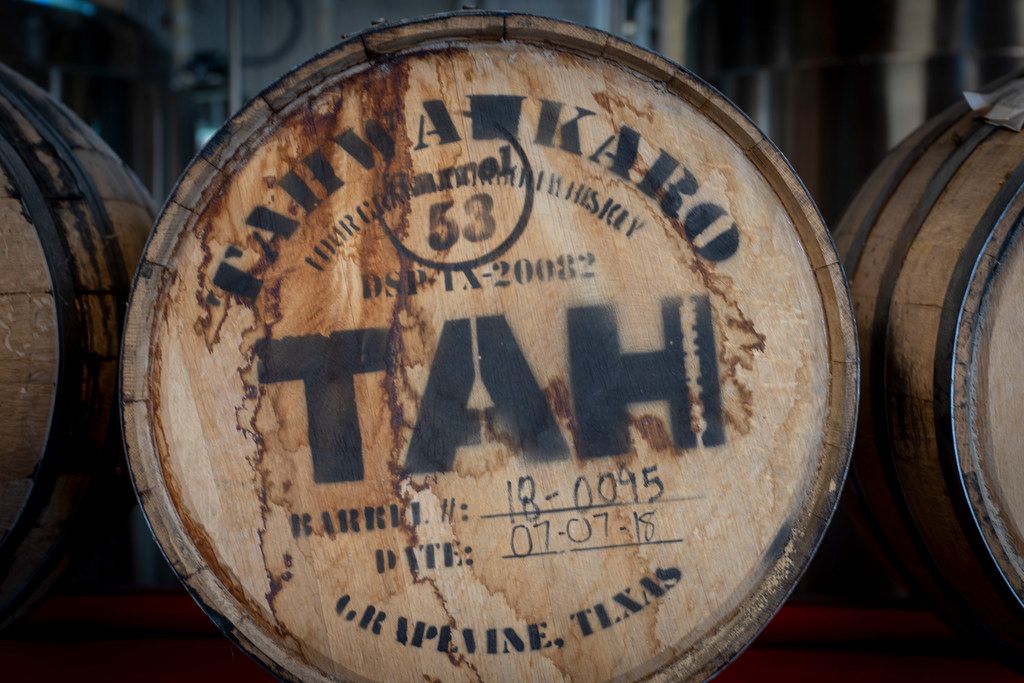 It's no scenic Kentucky hollow. In fact, it might be better.
"One of the cool things about Texas bourbon is that we have very wild climate and weather patterns here," says Chris Vivion, a partner. "That equates to an expedited aging process."
The charred white oak barrels absorb the distillation as they expand and extrude it when the mercury falls, easing natural sugar and flavor into the hooch. The process also tints the liquid amber.
"A 4-year-old bourbon from Texas may taste much older than a 4-year-old bourbon from somewhere else," Vivion says. "When wood is warm, you get rapid aging."
Come fall, Tahwahkaro plans to introduce a cask-strength bourbon with a high proof and an unusual rye malt whiskey.
"A rye malted whiskey is rare. There are not many examples in the world," Jackson says. "It's a little sweeter, more roasted with toffee and black cherry. The sweet and spice of rye."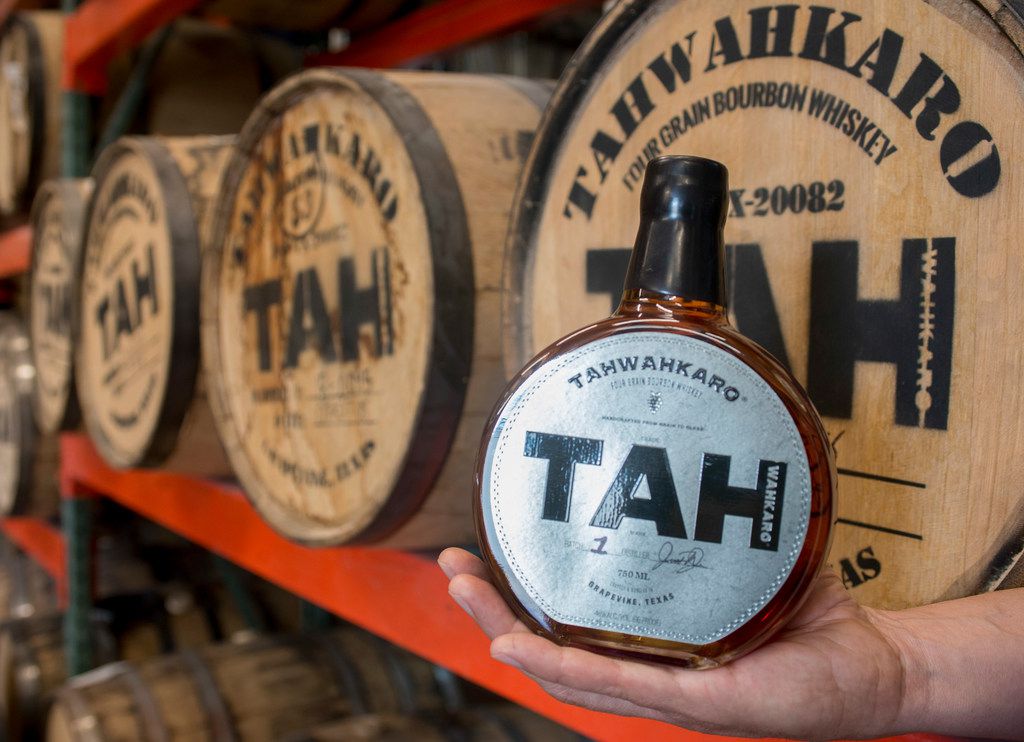 Distilling is a new field for Jackson, who had repped pricey racing bikes before he was badly injured in a horrific car accident that took his wife's life.
In 2012, the couple was stopped in traffic on I-40 in Arkansas when two tractor trailers cruising at highway speed slammed one after the other into their car, crushing it into the 18-wheeler standing ahead.
Jackson was close to his in-laws, and his wife's sister, Allie, began caring for him through the long healing process. They married and have two young children.
"I feel very blessed for that, to have the general health that I do and to have recovered from that accident and now have a beautiful family," Jackson says.
He got the idea for Tahwahkaro when his brother, Jason, co-founded Axe and the Oak distillery"on a shoestring" in Colorado Springs, Colo., in 2013.
"I watched him do this, and I was really inspired," he says. "Allie and I made the decision late in 2015 to start the company."
Jason Jackson joined as a partner along with Vivion and his brother, who is also named Jason. Chris Vivion is also a principal in Niles City Sound recording studio, which launched Leon Bridges.
Tahwahkaro is easy to spot because the bottle is shaped like a vintage military canteen.
"You need water," says Vivion. "And you need whiskey."
Tahwahkaro can be found locally for about $54.99 at Bar and Garden Dallas, Beverage Depot, Goody Goody, Pogo's, Specs, Total Wine and More, and other liquor stores.